.
Introducing ORBITVU at B3K

Streamline product content production, optimize costs, and show off your product with a dedicated solution from Orbitvu.
Boost brand recognition by creating the same look and feel in every image regardless of the product. Orbitvu's software works seamlessly with the motorized turntable, automated stand, digital cameras, and LED lighting allowing you to store and repeat any camera and lighting setup, production position, and post-production options to precisely recreate every shot.
Take high-quality still product shots for e-commerce and more in seconds.
Make 360-degree photos and spins without any additional experience or training.
Shoot top-notch product photo and video content with live models with just one device.
Produce stunning flat lay content for websites, social media and more.
Capture, process, edit and publish the content from one workstation. With numerous exceptional photo automation devices, there's an Orbitvu solution designed for product imaging from jewellery to jackets, bags to bicycles and everything in between.
ORBITVU WORKSTATIONS
Click on images for full product specifications and explore the Orbitvu family to see which solution best meets your production needs.  
Contact us for a demo, quote, or more information: 416-628-8044 or [email protected]
ORBITVU AlphaShot Micro V2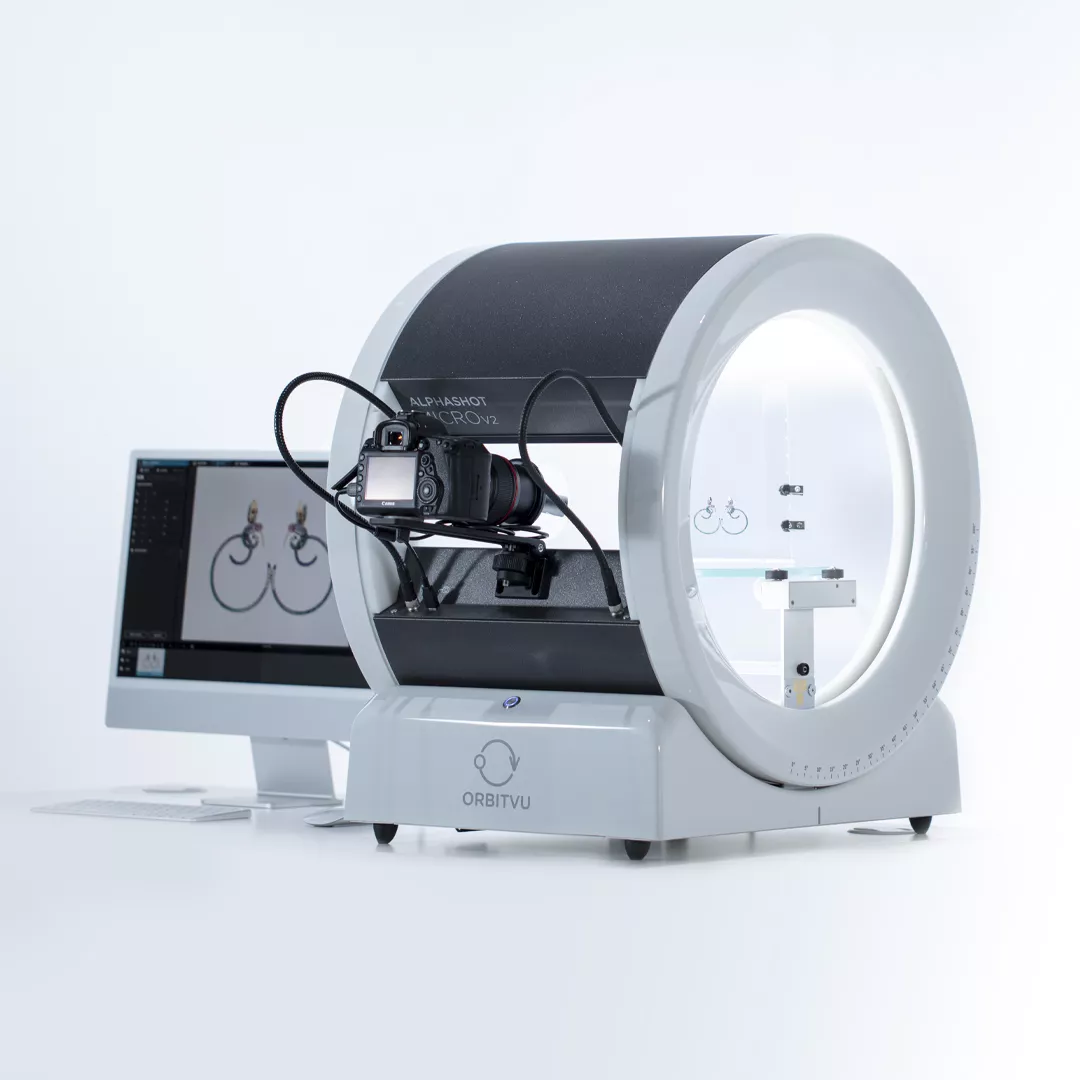 A specially designed solution ideal for jewellery and small highly reflective objects  producing 360° product images, videos or stills.
 Dimensions: 83 cm × 52 cm × 72 cm
 Weight: 43 kg
 Turntable diameter: 41.5 cm
 Max object weight: 1 kg
ORBITVU AlphaShot 360
This optimal product photography solution is perfect for a wide variety of smaller products like eyewear, cosmetics, mobile phones, clothing accessories or small tools.
 Dimensions: 115 cm  × 69 cm × 64 cm 
 Weight: 60 kg 
 Max object size: 30  cm × 30 cm × 30 cm 
 Turntable  diameter: 59 cm 
 Max object weight:  3 kg 



ORBITVU AlphaShot XL V2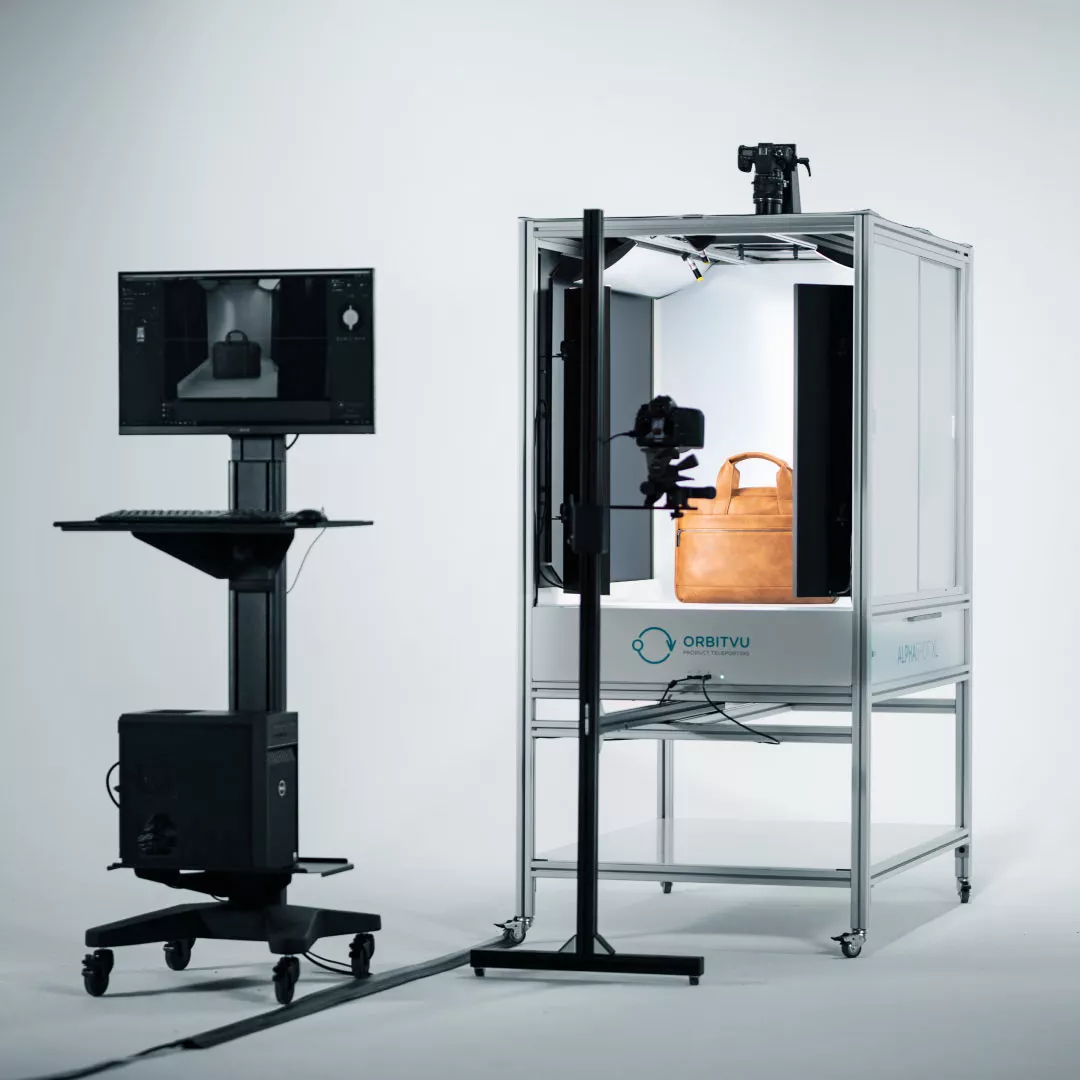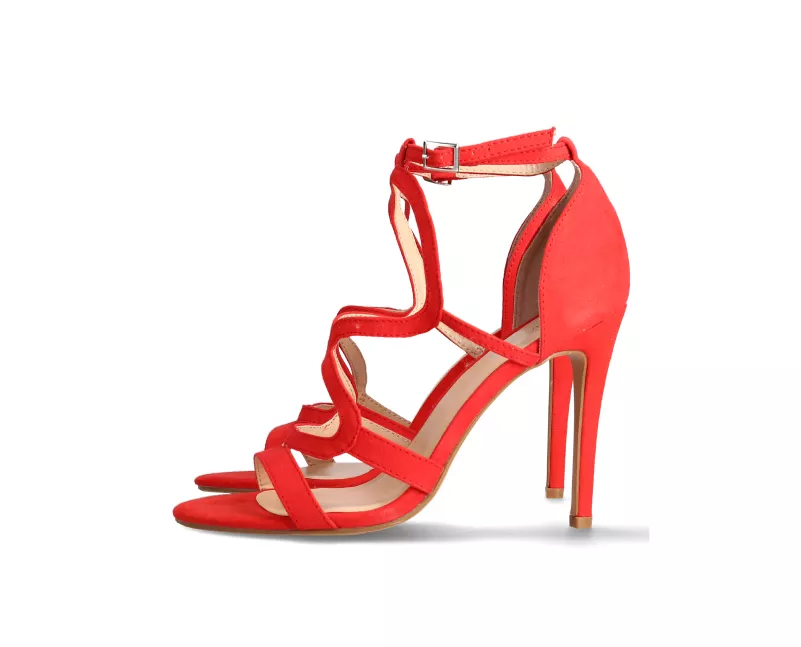 One of Orbitvu's most versatile workstation the AlphaShot XL is perfect for small to medium-sized product stills, 360° images or videos. Take total control in creating your unique photo style with cutting-edge lighting along with various accessories that make this device ideal for capturing a very broad range of products.
Dimensions: 142 cm × 87 cm × 176 cm
Weight: 137 kg
Max object size: 50 cm × 30 cm × 70 cm
Turntable diameter: 75 cm
Max object weight: 25 kg
ORBITVU AlphaStudio Compact Pro V2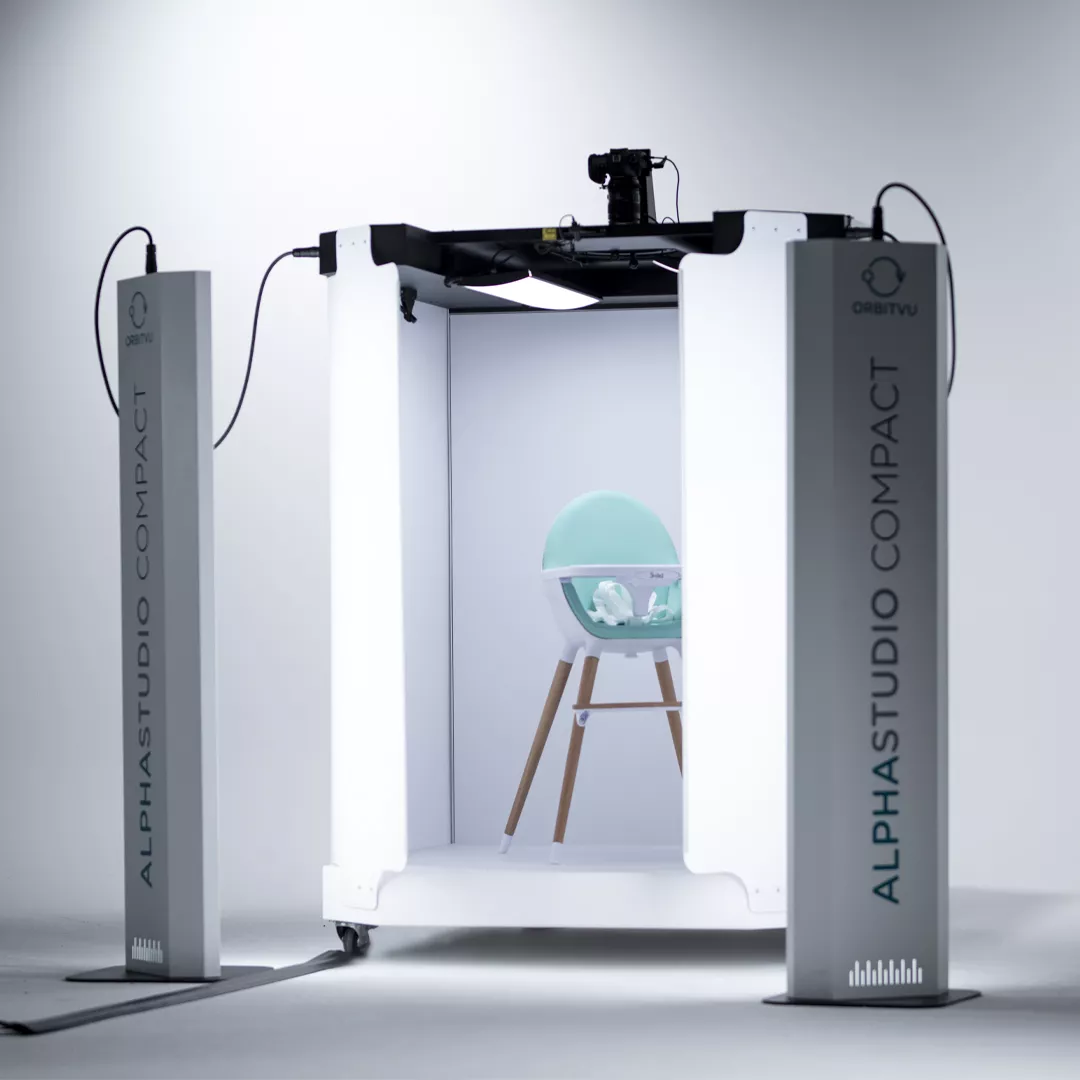 Produce stunning quality stills, 360° images or videos of medium sized products, anything from musical instruments and plants to suitcases and vacuum cleaners.
Dimensions: 178 cm × 136 cm × 183 cm
Weight: 280 kg
Max object size: 80 cm × 70 cm × 130 cm
Turntable diameter: 125 cm
Max object weight: 100 kg
ORBITVU AlphaStudio XXL Pro V2
Create top-quality product content with live models, mannequins, or large objects in only seconds. Whether you need 360-degree spins, still photos, or videos, the all-in-one Alphastudio XXL makes it easy to produce extraordinary shots.
Dimensions: 247 cm × 139 cm × 164 cm
Weight: 340 kg
Max object size: 190 cm × 90 cm × 100 cm
Turntable diameter: 120 cm
Max object weight: 100 kg
ORBITVU Bike Studio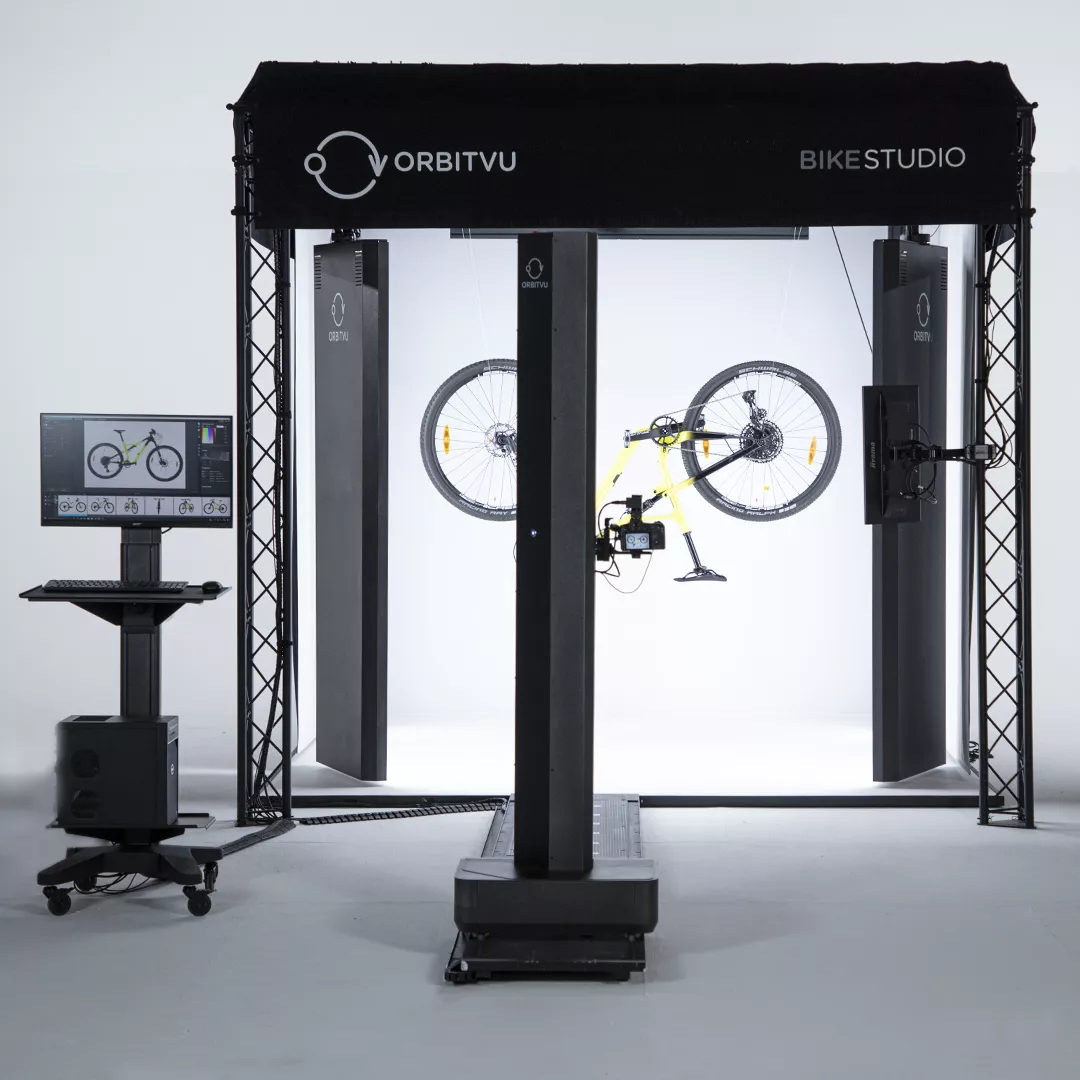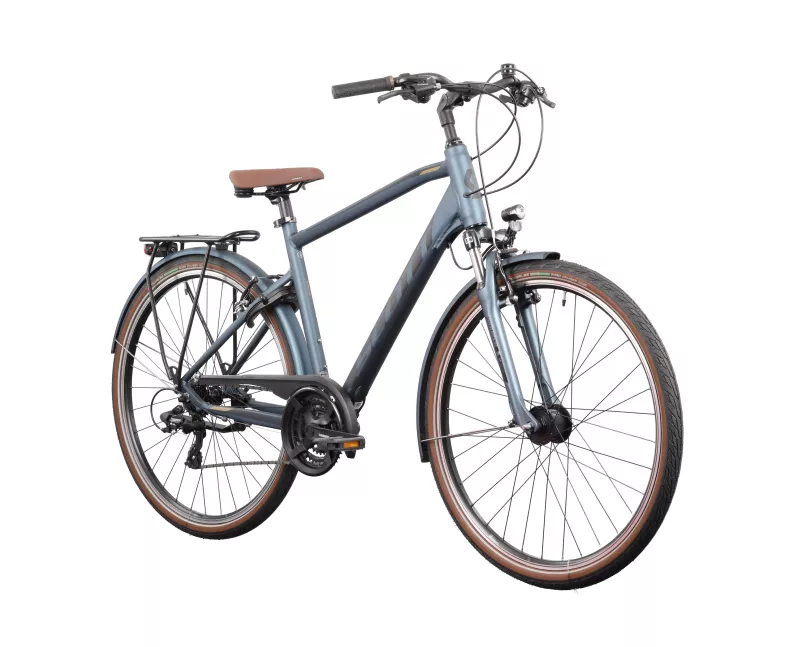 Designed to photograph bikes, cycling accessories and clothes on both live models and mannequins, the Bike Studio features a unique suspension kit that facilitates instant background removal for still images capturing intricate product details. 
Dimensions: 847 cm × 301 cm × 292 cm
Weight: 800 kg
Max object size: 200 cm × 100 cm × 200 cm
Max object weight - point load: 35 kg
Max object weight - surface load: 200 kg
ORBITVU AlphaTable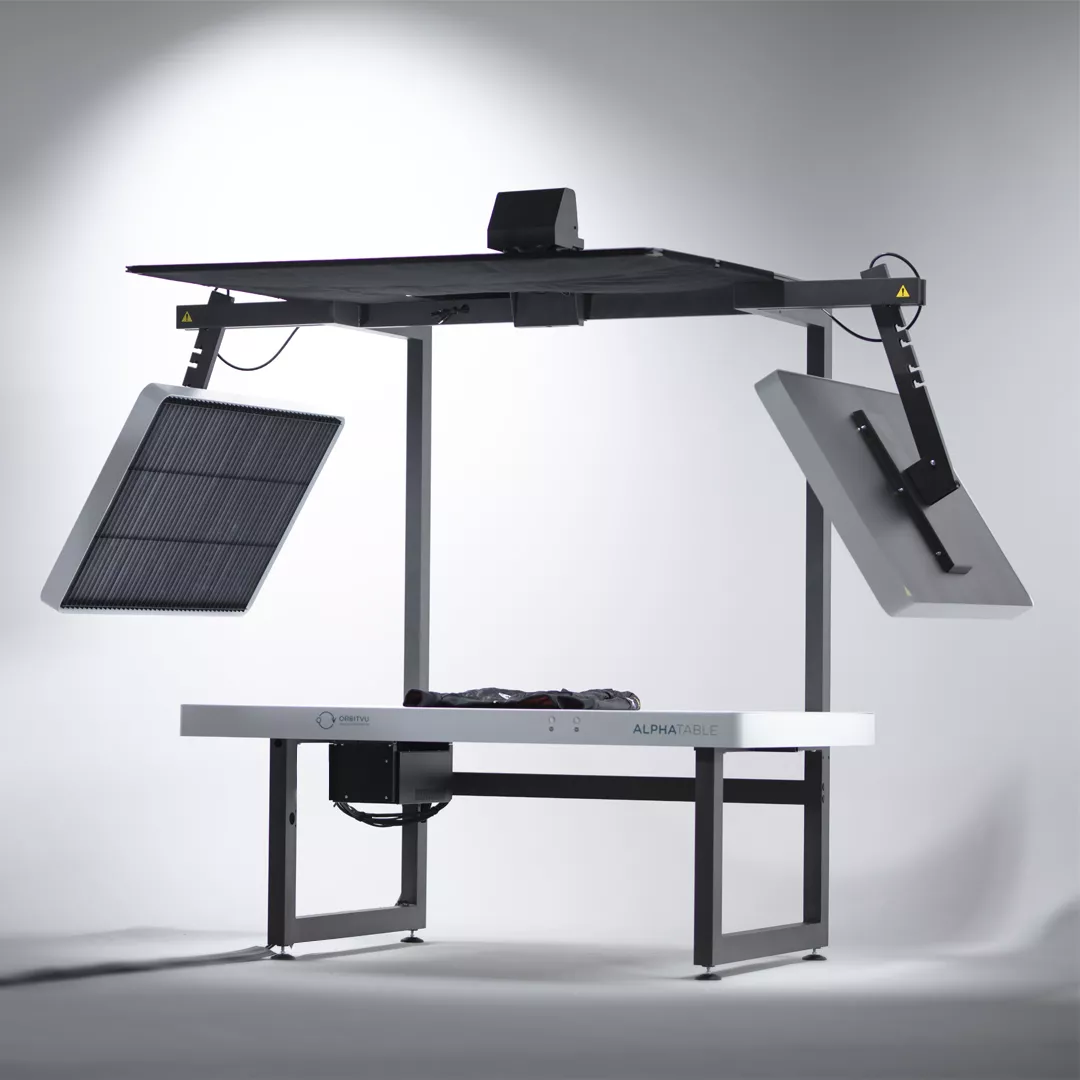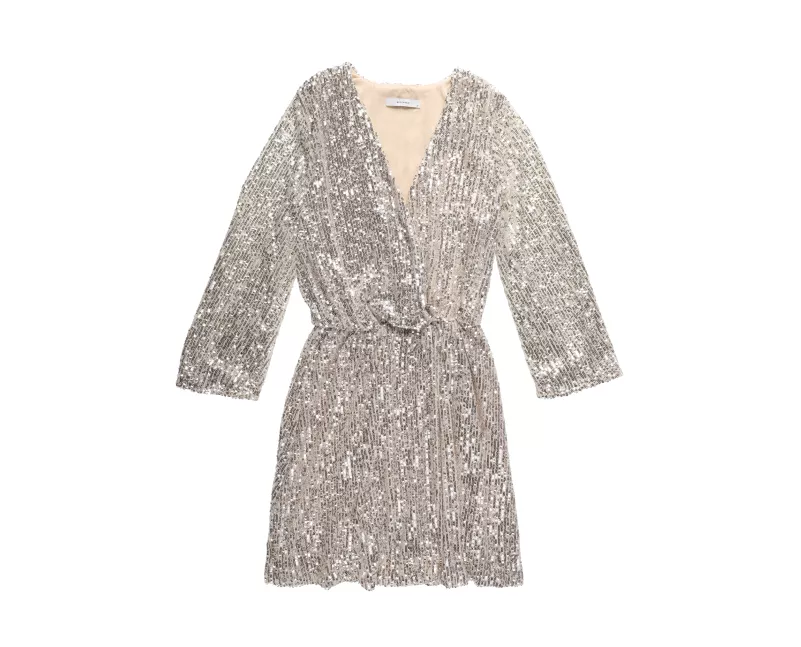 A dedicated backlit workstation ideal for creating top-view images of clothes, tiles, rugs or any products up to 165 cm by 112 cm in size. 
Dimensions: 255 cm × 191 cm × 248 cm
Weight: 200 kg
Max object size: 165 cm × 112 cm × 5 cm
Max object weight: 80 kg
ORBITVU AlphaDesk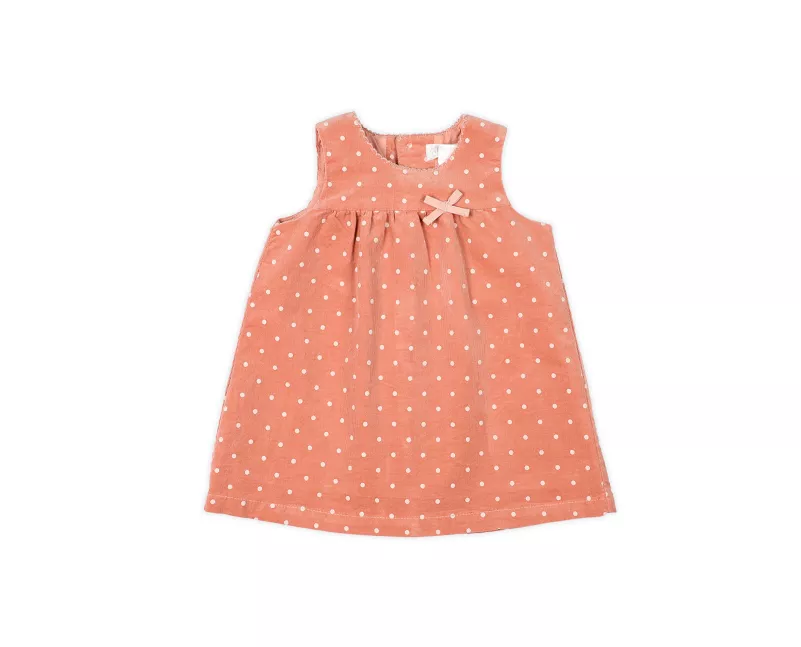 The little sister of the AlphaTable, the Orbitvu AlphaDesk produces exceptional images of small to medium-sized items like clothes and accessories. Shoot high-quality stills and stop-motion animations with just one press of a button. 
Dimensions: 156 cm × 124 cm × 138 cm
Weight: 55 kg
Max object size: 85 cm × 70 cm × 5 cm
Max object weight: 10 kg
ORBITVU E-comm Studio+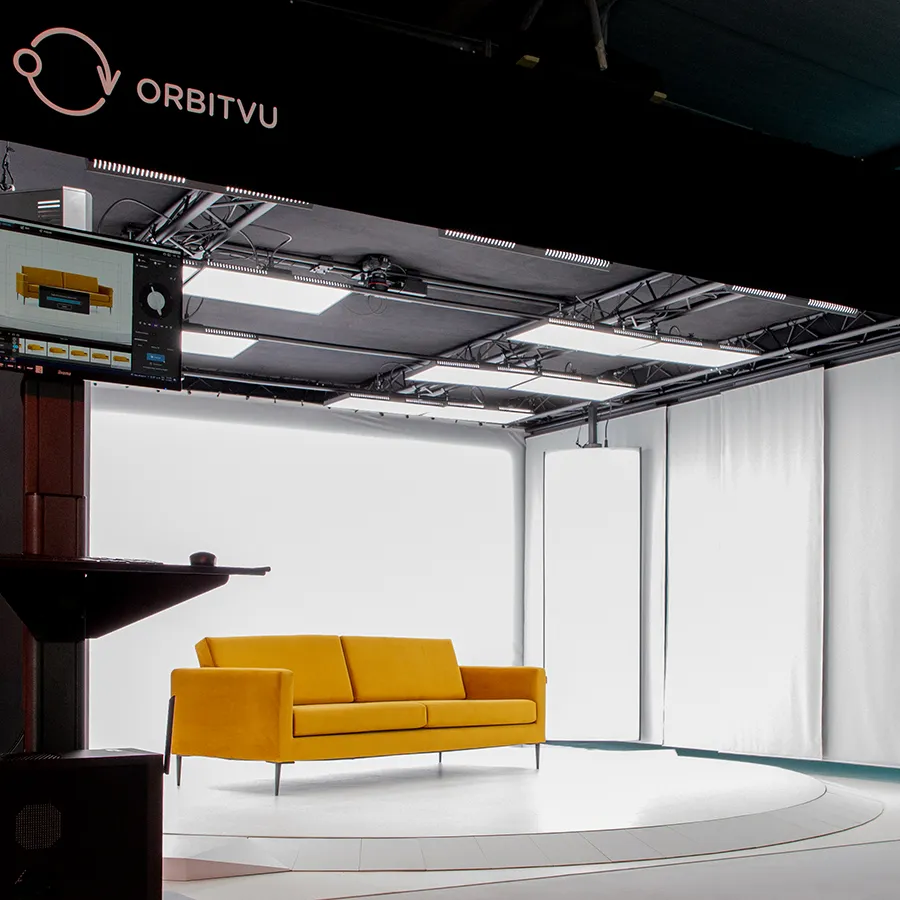 Designed to be customized, E-COMM STUDIO+ is the largest of the Orbitvu workstations, it is a platform that can accommodate products as big as major appliances and can shoot 360° spins, videos, and packshots without effort. 
Dimensions max: 670 x 588 x 302
Nett weight: 663kg
Max object size: 300 × 300 × 200
Max object weight: 4000 kg
**All ORBITVU workstations are compatible with Canon DSLR's